TORAH AND HAFTARAH READINGS, AND MIRACLES
There is an absolutely profound juxtaposition of the prescribed Torah and Haftarah readings for the August 16th Shabbat, and the situation in Eretz Israel today as we await further stories out of Operation Defensive Edge in Gaza, and at this very moment, as we await the news out of Cairo regarding the ending of the 5 day cease-fire agreement.
Many of us believe that Israel should be given world wide support to go in to Gaza, eradicate Hamas and thus create an environment is which it may be possible to provide peace for the Arab/Palestinian people of Gaza.
Many Israeli soldiers have given their lives to bring the situation to this point; and many terrorists, Hamas operatives, and ordinary citizens of Gaza, who were used as human shields, have died in the process; some of these deaths were at the hands of Hamas itself, either caused by their rockets on their own people or executions of both suspected collaborators with Israel and tunnel excavators who knew too much and might reveal it to Israel if they were captured.
So, on that side of the juxtaposition, we have violence, betrayal and death perpetrated by the enemies of Israel on Israel, the descendants of Abraham, Isaac and Jacob, whom the Sovereign LORD is returning to the "Mountains of Israel" for the sake of His "holy name", and horribly biased information spread by world media and the lying characteristic of the sources they use without giving proper care give to verifying the reliability of the source.
An example of this duplicity:
http://honestreporting.com/journalist-corrects-a-gaza-lie-with-another-lie/
That side then, is DARKNESS.
On the other side are the people of Israel, who are reading in the ancient readings prescribed for this very time in the year, about and to whom Moses says, in Deuteronomy 7:
"The LORD did not set his affection on you and choose you because you were more numerous than other peoples, for you were the fewest of all peoples. But it was because the LORD loved you and kept the oath he swore to your forefathers that he brought you out with a mighty hand and redeemed you from the land of slavery, from the power of Pharaoh king of Egypt. Know therefore that the LORD your God is God; he is the faithful God, keeping his covenant of love to a thousand generations of those who love him and keep his commands."
When the people challenge Moses with the observation that "these nations are stronger than we are", Moses response assures them with these words:
"But do not be afraid of them; remember well what the LORD your God did to Pharaoh and to all Egypt. You saw with your own eyes the great trials, the miraculous signs and wonders, the mighty hand and outstretched arm, with which the LORD your God brought you out. The LORD your God will do the same to all the peoples you now fear. Moreover, the LORD your God will send the hornet among them until even the survivors who hide from you have perished. Do not be terrified by them, for the LORD your God, who is among you, is a great and awesome God." (emphases added).
Moses then continues with a reminder of their harsh experiences in the wilderness, from their departure out of Egypt to the encampment on the border where he is addressing them; this was not a random wandering, but a guided tour in which "the LORD their God" was the tour guide. They did bring these 40 years of wandering upon themselves, of course, through their lack of trust in the Sovereign LORD their God, but God, being who He is, used those years as a "teachable moment".
"Remember how the LORD your God led you all the way in the desert these forty years, to humble you and to test you in order to know what was in your heart, whether or not you would keep his commands. He humbled you, causing you to hunger and then feeding you with manna, which neither you nor your fathers had known, to teach you that man does not live on bread alone but on every word that comes from the mouth of the LORD. Your clothes did not wear out and your feet did not swell during these forty years. Know then in your heart that as a man disciplines his son, so the LORD your God disciplines you." (emphases added).
Given this relationship of a Father and his son, whom He disciplines and shapes for success, Moses encourages them to:
"Observe the commands of the LORD your God, walking in his ways and revering him. For the LORD your God is bringing you into a good land--a land with streams and pools of water, with springs flowing in the valleys and hills; a land with wheat and barley, vines and fig trees, pomegranates, olive oil and honey; a land where bread will not be scarce and you will lack nothing; a land where the rocks are iron and you can dig copper out of the hills."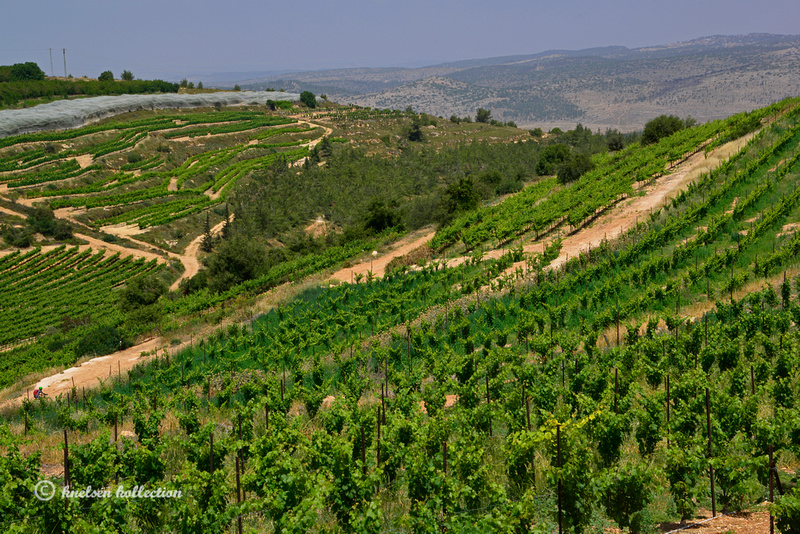 Not only are these people "the apple of his eye", but later in this passage, Moses adds regarding the land, "It is a land the LORD your God cares for; the eyes of the LORD your God are continually on it from the beginning of the year to its end."
Those of you who know me, know that at this point I will not be able to resist a quick reminder of the Sovereign LORD's tender words directed to the land in Ezekiel 36; (there is a whole series of blogs on this topic in the archives).
Moses is careful to have the people understand clearly that the Sovereign LORD their God is not driving out the nations before them because of their righteousness, "but on account of the wickedness of these nations the LORD your God will drive them out before you, to accomplish what he swore to your fathers, to Abraham, Isaac and Jacob. Understand, then, that it is not because of your righteousness that the LORD your God is giving you this good land to possess, for you are a stiff-necked people." (Genesis 15 should be remembered in the context of the "wickedness of these nations").
Although these words of Moses were spoken before the people even entered the Promised Land under Joshua's leadership with the LORD going before them to possess it, the seems relevant today because Israel is still surrounded by hostile nations, and particularly because of the current Operation Protective Edge designed to protect Israel from the terrorist attacks of Hamas.
This brings me to the point about miracles in the juxtaposition I am holding before you.
Moses reminds the people that they are witnesses to the strong arm of the LORD that brought them out of Egypt, fed and protected them in the wilderness with miraculous signs and wonders.
Likewise, in this current conflict, we are hearing story after story of Miraculous interventions to assist and save IDF soldiers in their task of protecting the people of Israel. Stories of this nature abound out of all of the past wars fought by Israel to become re-established in their land by the will and purpose of the International Community of the day, including, finally, the UN's totally UN-fair partition plan of 1947; but it did, at least, recognise the Jews' right to a sovereign state.
This link to Breaking Israel News will serve as my conclusion:
http://www.breakingisraelnews.com/19812/rumors-abound-gods-protection-israel-fable/?utm_source=Jerusalem365&utm_campaign=a55a98fb40-Jerusalem365+Email&utm_medium=email&utm_term=0_966f66c607-a55a98fb40-19563093&goal=0_966f66c607-a55a98fb40-19563093&mc_cid=a55a98fb40&mc_eid=ccae9e0435#h7QwRhsxuZcVb9vS.97
These stories, I believe, show that the juxtaposition I am using is valid.
The link that holds them together is the Torah, from which I have quoted extensively already, and, particularly the Haftarah reading (Isaiah 49:14 to 51:3), from which I quote in conclusion.
Isaiah is speaking of the time when the Sovereign LORD, the God of Israel, addressing Zion directly, as He addressed the Mountains of Israel directly, says, "'Your sons hasten back, and those who laid you waste depart from you. Lift up your eyes and look around; all your sons gather and come to you. As surely as I live,' declares the LORD, 'you will wear them all as ornaments; you will put them on, like a bride. Though you were ruined and made desolate and your land laid waste, now you will be too small for your people, and those who devoured you will be far away. 20 The children born during your bereavement will yet say in your hearing, 'This place is too small for us; give us more space to live in.'"
This "too small" will soon be the case!
Isaiah also records the LORD saying that He will use people just like me in this process of bring Zion's sons back to her: "This is what the Sovereign LORD says: "See, I will beckon to the Gentiles, I will lift up my banner to the peoples; they will bring your sons in their arms and carry your daughters on their shoulders." (emphases added).
Hallelujah!
This "beckoning" of the Sovereign LORD, incidentally, is the call that Grace and I have received and are walking out and consider to be our work for the current stage of our lives.
This reading concludes with these words that virtually glow in the dark of current events: "Listen to me, you who pursue righteousness and who seek the LORD: Look to the rock from which you were cut and to the quarry from which you were hewn; 2 look to Abraham, your father, and to Sarah, who gave you birth. When I called him he was but one, and I blessed him and made him many. 3 The LORD will surely comfort Zion and will look with compassion on all her ruins; he will make her deserts like Eden, her wastelands like the garden of the LORD. Joy and gladness will be found in her, thanksgiving and the sound of singing."