There already is an intifada against Israel. The Palestinians are close to declaring another intifada, this time against their president, Mahmoud Abbas, thus paving the way for a further escalation of the anti-Israeli Intifada.

Abbas has been diverting Palestinian anger toward Israel. The rhetorical attacks on Israel embolden Hamas and Palestinian extremists and drive more Palestinians into their open arms.
What happened in the center of Ramallah on the morning of June 22 could signal the beginning of an uprising, or intifada, against the Palestinian Authority [PA].
The incident began when hundreds of angry Palestinian youths attacked the headquarters of the Palestinian police in the city in protest against ongoing security coordination between the PA security forces and Israel.
At least three Palestinians were injured when Palestinian policemen used live ammunition to stop the attackers from storming the police station. Seven police vehicles parked outside the police station were badly damaged.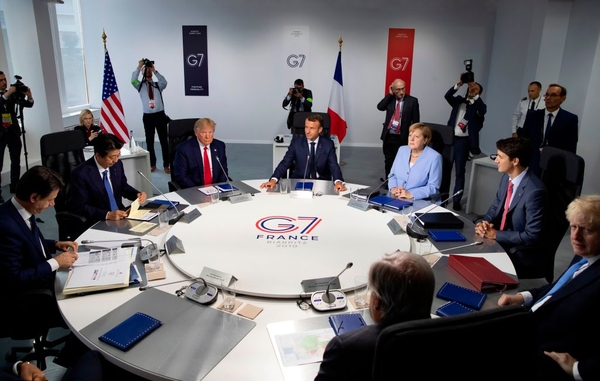 Palestinian youths hurl stones at the Palestinian police headquarters in Ramallah, on June 22. (Image source: Rayafm YouTube video)
The attackers were particularly furious with the Palestinian policemen who stayed inside their offices as Israel Defense Forces soldiers entered Ramallah in the context of a manhunt to find three kidnapped Israeli youths, believed to have been taken by Hamas.
The attack on the Palestinian police station came amid growing Palestinian discontent with PA President Mahmoud Abbas over his opposition to the kidnapping of the three Israeli youths.
Palestinians representing various Palestinian factions, including Abbas's own Fatah, have resorted to social media to denounce Abbas and his security forces as "traitors" for helping Israel in its efforts to locate the three youths.
One campaign on Facebook entitled, "I'm Palestinian and Abbas doesn't represent me" has drawn hundreds of supporters.
Palestinian protests against Abbas and security coordination with Israel have recently become a daily occurrence in the West Bank, where Palestinian protesters are no longer afraid to express their views in public.
The Palestinian Authority has begun to feel the heat and that is why its security forces have been instructed to use an iron-fist policy not only against its critics, but also against Palestinian and Western journalists in the West Bank.
On June 20, Palestinian policemen broke up a protest in Hebron by families of Palestinian prisoners held by Israel, and beat a number of journalists, including a CNN reporter who had his camera smashed.
Hamas and other Palestinian groups are now talking about preparations for a third intifada against Israel. "We are headed toward a third intifada and a direct confrontation with the Israeli occupation," said Hamas spokesman Hussam Badran.
But the truth is that in the West Bank there already is an intifada against Israel. Palestinians call it a popular intifada, which they have been waging since long before the abduction of the three teenagers. This is an intifada that consists of daily confrontations between Israeli soldiers and Palestinians, who have also been targeting Jewish settlers in several parts of the West Bank.
The incident in Ramallah and increased criticism of Abbas and the PA leadership show that the Palestinians are also close to declaring another intifada, this time against their president and his "treacherous" security forces.
To avoid such an uprising against his regime, Abbas will most likely try to divert the anger on the Palestinian street toward Israel, thus paving the way for a further escalation of the anti-Israeli intifada.
This explains the strong condemnations in recent days, from Abbas and his senior officials, of the ongoing Israeli security crackdown in the West Bank. The rhetorical attacks on Israel embolden Hamas and Palestinian extremists and drive more Palestinians into their open arms."
One other note: I met Brian Schrauger a month ago in the Institute of Israel Studies course in Jerusalem. He is an energetic spokesperson for the truth about what is happening in Bethlehem and the way the PA controls this Biblical town; and the way Arab/Palestinian Christians, seemingly unaware of their obvious dhimmi status in the PA controlled areas, bow to PA pressure in their presentation of Israel at the Christ at the Checkpoint conference held every 2 years at Bethlehem Bible College. He actively published accurate information from the Conference location earlier this year, and has been severely criticized for doing so.
Last week the PA had enough, and Brian received a visit from 5 PA representatives who escorted him to an interrogation center, took his passport and phone and suggested that, although they were not telling him to leave Bethlehem, they wanted him to know that, although 99% of Arab/Palestinian people were peaceful, they did not want to see him harmed by someone in that measly 1%.
So, for the sake of his safety, he should consider leaving.
To further express their concern for is safety, after the "interview" they opened the door for him to leave. Although they had driven him from his apartment, where they had greeted him as he came out of his door, to the interrogation center, upon releasing him just asked, "Do you know where you are?", and left him to walk the mile back to his place.
I'm sure none of the measly 1% were lurking in the shadows waiting for him.
He is safely out and now staying in Efrat; pray for his safety and the LORD's direction as he continues to seek out and publish truth.
Visit Brian on Facebook:
https://www.facebook.com/BrianSchrauger
I know I just published earlier this morning, but I ask all of you to pray for these situations; the 3 boys have not yet been brought home either, continue to pray for their safe return.