SHARED BLOG FROM GRACE
September 1st, Tuesday, 12:50 PM
As I write, we are seated in 32 A & C, on what seems a slow and lengthy flight. The reality is, we are being catapulted towards Israel at 530 mph, at 39000 ft. with a display of a magnificent cloudscape. This will be our 4th and 5th arrival at Ben Gurion Airport, yet each time I am unexpectedly surprised at the unfamiliarity and diversity of the Middle Eastern culture. The 100 or more nations in the land create a kaleidoscope of languages, colors, customs, religions and philosophies.
How do I, a light-skinned Caucasian, a Gentile, a Mennonite with conservative muted colored clothing, with English as my second language, fit into the Israeli landscape?
The message, spoken by a Jew, which I first learned and read in rural Manitoba, Canada, has not changed over thousands of years. "Go ye therefore, and teach all nations….." The gospel came to us via Jerusalem; it has come full circle for us as now we are taking it back to where it began.
The spirit of Jesus is already present in the land. Our presence reinforces; we are light bearers, peace makers, watchman who are hopeful enough to believe that His presence within will make a difference to Kingdom building.
September 3rd, Thursday
By now, of course, you know that we have arrived. If that had not been the case, you would also know. Joy overtook me as we landed in the land. Why, I could not tell you, except to say that perhaps my soul and spirit recognized a God presence. Perhaps it was an initial installment of many divine appointments and visitations yet to come.
Our car trip cross country to Rosh Pina, and Kfar Hanassi our first accommodation reservation, was most enjoyable, partly because it was an area of the Lower Galilee we had not yet seen. Crossing into the northern, or upper Galilee, we arrived at Rosh Pina, one of the oldest Jewish communities in Israel. God earmarked it as a special place when Jacob, millennia ago, lay his head down on a stone pillow and experienced his remarkable "ladder" dream.
It was twilight before we reached Kibbutz Kfar Hanassi, a kibbutz founded in 1948. Yehuda & Pat Ben Zeev welcomed us with very warm hospitality. They are British Jews who made Aliyah 40 years ago and are thoroughly qualified casual tour guides. Over the past two days they have given us initial introductions to the Kibbutz lifestyle and residents. We met Sara who danced an energetic jig in celebration of her 98th birthday. We have met young people here for their pre-army training. To our delight we were introduced to a young woman from Winnipeg, having just returned from her holiday there.
Mid- afternoon, on Tuesday, we had our first photograph assignment as we accompanied Pat to her job with Magen David Adom (Israel's equivalent of the Red Cross). We then explored Old Rosh Pina, perched high on a mountain ridge, walking very well worn, smooth cobble stone streets. We photographed orchards laden with large ripening pomegranates. At set of sun we observed the pinking of the sky and the pinking of the dry, brown rolling hills. The hills were clothed in various shades of haze. We stood in silence, hardly believing that ten hours had separated us from all that is familiar to what we saw before us. That ended our first full day in the land.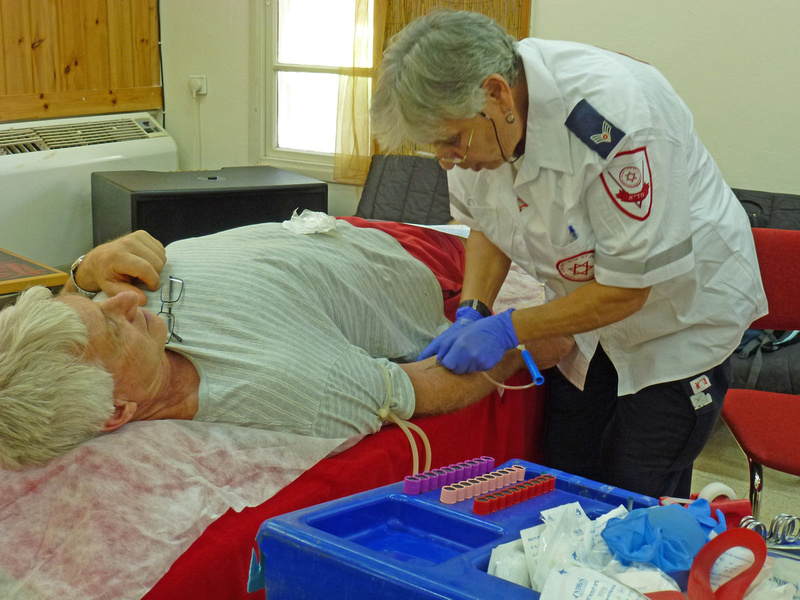 We began today (Sept 4, Thursday) with a stop at the kibbutz bakery, greeting a former Bridges for Peace volunteer whom we had met two years ago in Jerusalem. How wonderful to see a familiar face! The rest of the morning was spent on hill top Zefat, the center of Kabballah Judaism. The artist quarter is an amazing collection of shops where one can view and purchase top quality jewelry, paintings, candles, fabric art, etc. Added to our day was the sight & sound of children getting out of school, dressed in their long sleeved blue shirts and navy skirts/trousers, with each child wearing a brightly colored back-pack. Another happy group consisted of family and friends rejoicing with a 13 year old boy, who's Bar Mitzvah was being celebrated.
Our day ended with great conversation with our host and a wonderful lady, an 80 year old Scottish Aliyah maker in the early '50s and a late supper eaten on the patio overlooking the Golan Mountains, looking like mere hills in the distance. The view is joyous & sobering. It is no mystery to me why in Ezekiel God speaks to the mountains of Israel, in a most loving way, as though they are human beings. It is clear to me why He loves them so!