God Almighty, Creator and King of the Universe, prophesied in the Garden that the Serpent's head would be crushed by the "seed of the woman"; thus emerged the Great Redemptive Plan to restore Man and Creation to the GOOD it was created to be.
At the appropriate time, God called Abram/Abraham to leave his home in Chaldea and follow Him to the LAND that He would show him. Abraham obeyed, packed up and followed his God Almighty to that land, which he surveyed from Elon Moreh many years later.
What Abraham saw was not as populated as this, but from the peak in the center of the image on the left, Elon Moreh, he looked out, and this is part of what he saw.
In Genesis 15, however, God Almighty again prophesied that Abraham's descendants would only return to possess the land He promised to Abraham after 400 years, some of which would be spent in servitude to another nation.
The Torah reading for this coming Shabbat records the call of Moses, the child of Levite parents brought up in the courts of Egypt's Pharaoh, to return to Egypt as God Almighty's representative to redeem His people from their bondage and suffering in Egypt.
In response to Moses' plea to know the name of the God calling him, God Almighty identifies Himself with a new Name. Tell the people, He says, I AM WHO I AM, or I WILL BE WHO I WILL BE, in Hebrew, YHWH, Yahweh, has called you and sent you to them.
Even though this tells Moses clearly that the Creator and King of the Universe is calling him, Moses says, "Pardon your servant, Lord. I have never been eloquent, neither in the past nor since you have spoken to your servant. I am slow of speech and tongue...Please send someone else."
He is reluctant in the extreme.
Jeremiah, in the Haftara reading for this week, exhibits a similar reluctance.
Although the LORD assures Jeremiah that, ""Before I formed you in the womb I knew you,
before you were born I set you apart;
I appointed you as a prophet to the nations."
Jeremiah says,
"Alas, Sovereign Lord, I do not know how to speak; I am too young."
But the Lord said to me, "Do not say, 'I am too young.' You must go to everyone I send you to and say whatever I command you. Do not be afraid of them, for I am with you and will rescue you," declares the Lord.
Then the Lord reached out his hand and touched my mouth and said to me, "I have put my words in your mouth. See, today I appoint you over nations and kingdoms to uproot and tear down, to destroy and overthrow, to build and to plant."
Now that the LORD has his attention, He gives Jeremiah his first vision:
"The word of the Lord came to me: "What do you see, Jeremiah?"
"I see the branch of an almond tree," I replied.
The Lord said to me, "You have seen correctly, for I am watching to see that my word is fulfilled."
The almond blossom, the first to appear in Spring, symbolises, among other things, God's watchfulness over His LAND and His PEOPLE. Incidentally, Aaron, Moses' brother, had an almond rod/branch that miraculously not only budded but also blossomed as evidence that God was overseeing the situation.
So Jeremiah is reminded, at the outset of his call, that YHWH, the God who brought His people out of Egypt with His Mighty Arm, is the same God calling him to ministry.
This is the same God who in Zechariah's visions, (6: 12-13), identifies a "Joshua" as 'Here is the man whose name is the Branch, and he will branch out from his place and build the temple of the Lord. It is he who will build the temple of the Lord, and he will be clothed with majesty and will sit and rule on his throne. And he will be a priest on his throne. And there will be harmony between the two.'
"Branch" of David is a designation for Ha Mashiach, the Messiah, a Priest King who will rule over His people "forever".
In chapter 8, Zechariah, hears these words from the mouth of "the LORD Almighty":
"I will return to Zion and dwell in Jerusalem. Then Jerusalem will be called the Faithful City, and the mountain of the Lord Almighty will be called the Holy Mountain."
This is what the Lord Almighty says: "Once again men and women of ripe old age will sit in the streets of Jerusalem, each of them with cane in hand because of their age. The city streets will be filled with boys and girls playing there."
This is what the Lord Almighty says: "It may seem marvelous to the remnant of this people at that time, but will it seem marvelous to me?" declares the Lord Almighty."
Associated with the coming Messiah, this prophecy is already being fulfilled in our day as we saw with our own eyes in Jerusalem.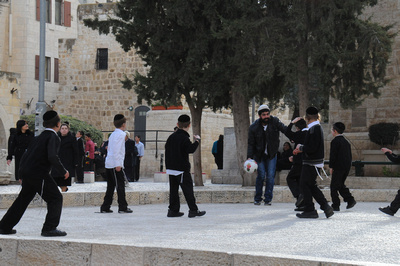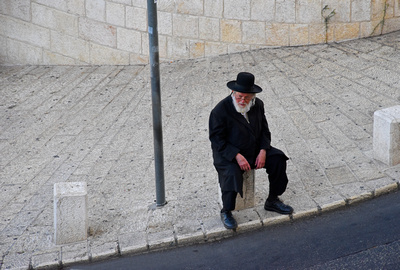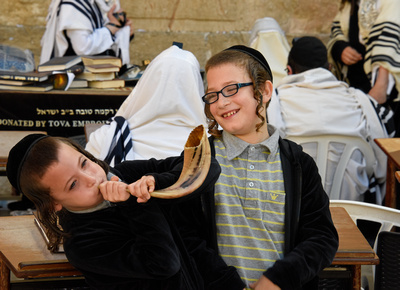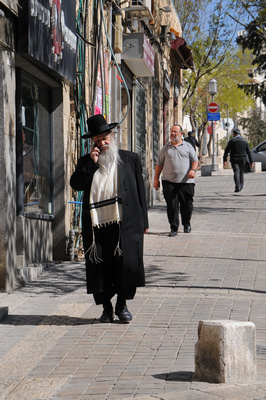 We Christians believe that Jesus Christ, Yeshua Ha Mashiach, is the Jewish Messiah and see this fulfilled prophecy in that light; however, regardless of the difference between our view of Yeshua as Messiah and our Jewish brothers and sisters' view of Messiah, there will be no such difference of view when Messiah "will return to Zion and dwell in Jerusalem. Then Jerusalem will be called the Faithful City, and the mountain of the Lord Almighty will be called the Holy Mountain."
Together we wait for that time.
Yeshua taught us to pray to the Creator and King of the Universe, the God of Abraham, Isaac and Jacob, the God of Israel, "Your Kingdom Come, Your Will be done on earth as it is in Heaven".
From the text in which we read that, we also know that His will is to bring His people, the descendants of Abraham, through Isaac and Jacob, back to the LAND that He promised to Abraham.
He is currently bringing them back; 28,400 new Aliyah makers arrived in Israel in 2014, http://www.jpost.com/Israel-News/24800-new-immigrants-arrive-in-Israel-in-5774-376063 including another 250 Bnei Menashe from India in November, and He is not about to stop that process until it is entirely His will to do so.
Mohammed, the Koran and the followers of Allah are quite aware of this Plan, and have been, since Mohammed himself began the process, determined to thwart it and all of God's purposes for this world, substituting their understanding of "submission" to Allah. That "submission" means 1) convert to Islam, or 2) pay the tax in return for life under their rule, or 3) say goodbye to your head; and we have seen enough of this literally happening, recorded on camera no less, to know that those options are real choices that many who happen to live anywhere Islam rules, or has ruled in the past, need to face.
The Temple Mount is, today, the center of the enemy's attack.
In Matthew 24, Yeshua says: "Because of the increase of wickedness, the love of most will grow cold, but the one who stands firm to the end will be saved. And this gospel of the kingdom will be preached in the whole world as a testimony to all nations, and then the end will come."
The Kingdom He is referencing is the Kingdom that will be established in Jerusalem when Messiah comes and "his feet will stand on the Mount of Olives, east of Jerusalem, and the Mount of Olives will be split in two from east to west, forming a great valley, with half of the mountain moving north and half moving south" (Zechariah 14).
"On that day living water will flow out from Jerusalem, half of it east to the Dead Sea and half of it west to the Mediterranean Sea, in summer and in winter.
The Lord will be king over the whole earth. On that day there will be one Lord, and his name the only name" (Zechariah 14).
Thank God for His Living Water which is available to all, but will, in that day, flow freely from Jerusalem and "then the survivors from all the nations that have attacked Jerusalem will go up year after year to worship the King, the Lord Almighty, and to celebrate the Festival of Tabernacles."
One day all of us, as Grace and I were privileged to do this past October, will go up to Jerusalem to celebrate the Feast of Tabernacles, or Sukkot.
A wonderful thought with which to begin 2015!