Grace and I have been experiencing, over the last few years, a bit by bit revelation of who we, as Christians, are in the context of God's Plan to redeem the world; a plan that began in the Garden when our Creator told the serpent that he would bruise the heel of the woman, but that the woman's seed would crush his head.
Later, God called Abraham to seek a land that He would show him, a land that He was giving to Abraham's descendants; and that through Abraham's seed He would bless the whole world. We understand that "Blessing" to mean the Salvation/Restoration/Reconciliation of man to God so that God's image in us will be restored.
These chosen people were "the apple of God's eye", living in a land of which He says that "His eye is on it from the beginning of the year to the end of the year". This is the land to which Moses leads God's people and Joshua conquers after the 400 years that God tells Abraham, in Genesis 15, they will need to wait, "for the sin of the Amorites has not yet reached its full measure". Only when the Amorites, a general term for the inhabitants of Canaan at that time, are ready for God's judgement; Joshua and the Israelite army are the instrument God choses to use for His judgement purposes.
King David is promised an heir who will sit on his throne "forever", an heir who will be born in Bethlehem, David's own birthplace, and, as Zechariah says, will ride into Jerusalem on a donkey.
Most of the Prophets repeat this Messianic prophecy in some way.
Yeshua himself claims, in Luke 4, when He reads from Isaiah 61:1-the first half of 2, that He is the fulfillment of this prophecy. When we check the passage in Isaiah, we find that Yeshua, it seems quite deliberately, stops reading halfway through verse 2 and declares that "Today this scripture is fulfilled in your hearing".
There is, however, no break or pause in the Isaiah text; it continues on, prophetically still speaking about the events surrounding Messiah. Why does Yeshua not continue reading? Is it because it does not apply to Him? I think we all agree that not only does it apply to Him, but that, because this first part is fulfilled, the rest will be as well; although even today it has not been fulfilled.
Jeremiah in chapters 16 & 23 prophesies: "So then, the days are coming," declares the Lord, "when people will no longer say, 'As surely as the Lord lives, who brought the Israelites up out of Egypt,' but they will say, 'As surely as the Lord lives, who brought the descendants of Israel up out of the land of the north and out of all the countries where he had banished them.' Then they will live in their own land."
With the re-constitution of the nation of Israel in 1948, that regathering had a home land to which they could be re-gathered, and are continuing to be gathered, even more so now from France; 7,000 in 2014 and, it is expected, that will double to perhaps 15,000 in 2015.
Ezekiel (36-37) clearly quotes the Sovereign LORD saying that the re-gathering is "for the sake of [His] holy name" and that it is part of a process of redeeming/restoring the land, rebuilding the ancient towns, and restoring the people, cleansing them from their sin, with the Messiah to redeem them.
Grace and I have been meeting more and more people in Israel who understand themselves to be back in the land in just this context. They are God fearing, Bible believing people anticipating the Messiah's coming; only, in distinction from our Christian view, they are anticipating the Messiah who will fulfill the prophecies in the remainder of Isaiah, from 61:2, where Yeshua stopped His reading, on through the remainder of Isaiah.
Since there is much more said about Messiah in that part of the book than what Yeshua read, it seems reasonable that we should try to understand how these two views fit together. Passages like these chapters in Isaiah, and many other Prophets, speak of the Kingdom that Messiah will establish. Zechariah clearly places the center of that Kingdom in Jerusalem, or Zion, which is another name for Jerusalem.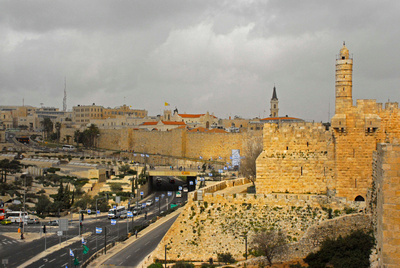 In Matthew 24, Yeshua describes the moral environment at the time of His return, saying, "Because of the increase of wickedness, the love of most will grow cold, 13 but the one who stands firm to the end will be saved. 14 And this gospel of the kingdom will be preached in the whole world as a testimony to all nations, and then the end will come." (emphasis added).
Because there are many texts that speak of "this Kingdom" being an earthly Kingdom with an earthly center of rule, namely Jerusalem, we need to be careful when we spiritualise this Kingdom to be the church, that we do not discard the earthly Kingdom; the Kingdom that the Jews anticipate will be established by Messiah when He comes.
We believe that somehow these will come together and there will be ONE Kingdom and ONE Messiah.
I believe what Paul suggests in Ephesians 5: "just as Christ loved the church and gave himself up for her to make her holy, cleansing her by the washing with water through the word, and to present her to himself as a radiant church, without stain or wrinkle or any other blemish, but holy and blameless", is another way of saying that we Gentiles will be woven together with the Jews, into one body which we will recognise as the God-preserved Jewish remnant into which we have been grafted.
The anticipation of this motivates our search to understand the Scriptures more clearly, and to work toward cooperation with the Jews in gaining this understanding.
Paul, in Ephesians 1-3, explains to the Gentile Ephesians that salvation does not stand alone. He declares to them: "Therefore, remember that formerly you who are Gentiles by birth and called "uncircumcised" by those who call themselves "the circumcision" (which is done in the body by human hands)— remember that at that time you were separate from Christ, excluded from citizenship in Israel and foreigners to the covenants of the promise, without hope and without God in the world. But now in Christ Jesus you who once were far away have been brought near by the blood of Christ." (emphasis added).
Paul calls this process a mystery, which it certainly is for me; how can we understand what God is doing to bring all of His people together in ONE body? But, since so many prophecies are already fulfilled, it is easier to accept, in faith, that this prophecy too will come to pass.
Our experience of the joint Jewish-Christian worship and prayer event in the synagogue at the Center for Jewish-Christian Understanding and Cooperation in Efrat, Israel, this October certainly strengthened our faith in and anticipation of this reconciliation and cooperation to grow in the future. We came home with a heightened desire to work to facilitate this reconciliation. (For a more thorough description of this experience please see the blog posted October 30/14).